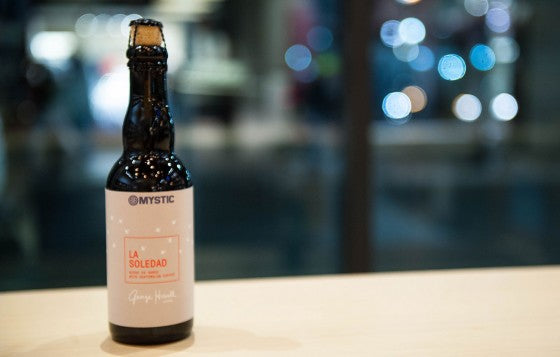 A new collab beer between George Howell Coffee & Mystic Brewery.
Mystic Brewery has released the third beer in our single origin coffee beer series—La Soledad Biere de Garde.
This is a limited batch, so make sure to ask your local craft beer store if they have it, or can get it. We hope you enjoy!
Available at the following locations:
HOPSTERS ALLEY
URBAN GRAPE SOUTH END
FERNANDEZ BROTHERS LIQUOR
CRAFT BEER CELLAR (FRAM)
CRAFT BEER CELLAR
CHARLES STREET LIQUORS
CRAFT BEER CELLAR FENWAY
SEAPORT CONVENIENCE & LIQ
CAMBRIDGE WINE & SPIRITS
CRAFT BEER CELLAR NEWTON
WINE CASK INC., THE
CITY LIQUORS
PEMBERTON FARMS
MARTY'S FINE WINES
DISTINCT BEER & WINE
YANKEE SPIRITS
COLONIAL SPIRITS ACTON
KELLY'S PACKAGE STORE
ALBERT'S MARKET
K-2 BEER & WINE
CRAFTED
WINE GALLERY (BOSTON)