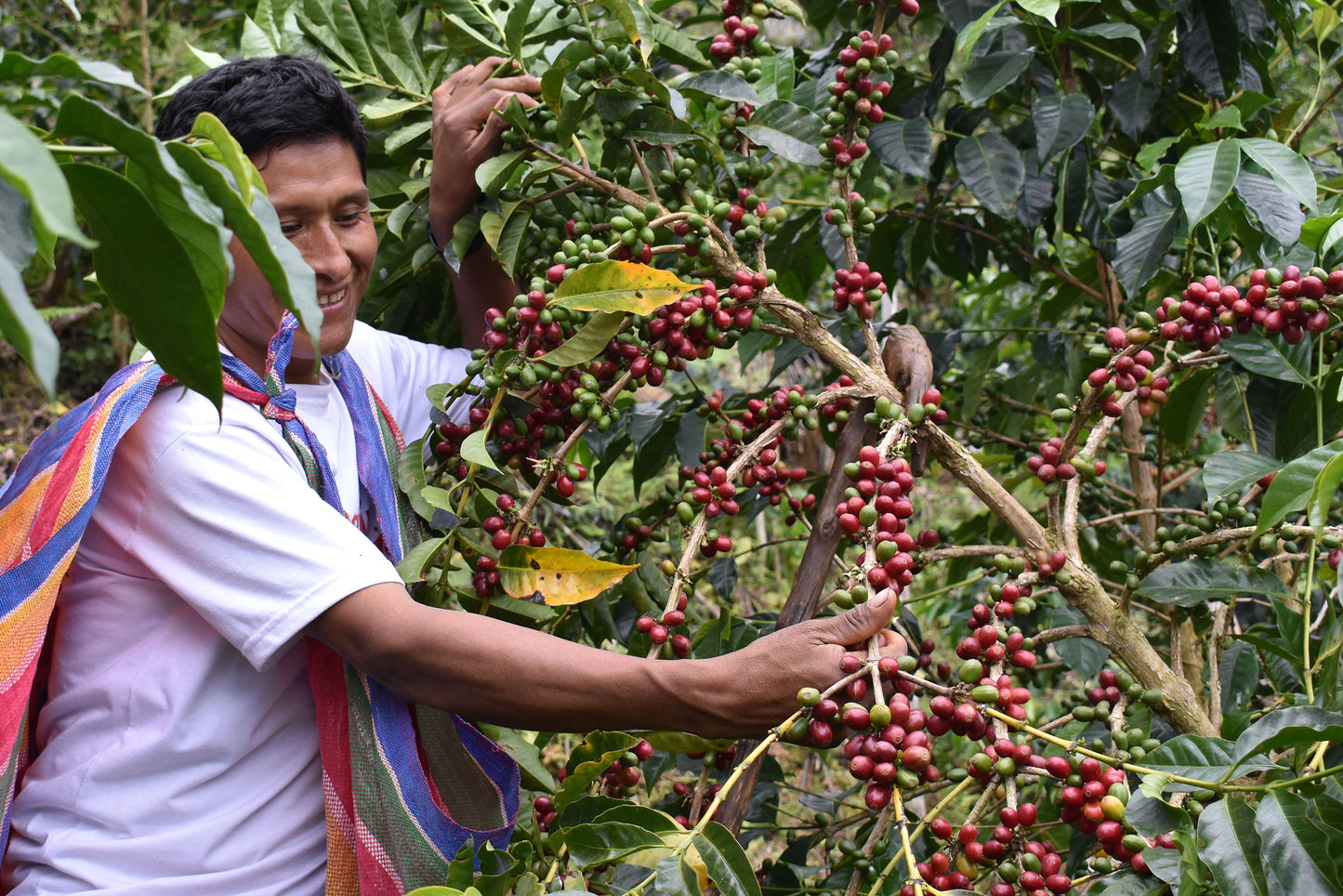 Alto Langunillas, Peru
Wilson Sucaticona is a craft-driven small farmer of Aymara descent. He inherited his 7.5 acre farm, Alto Lagunillas, and took it to great renown in Peru after receiving top awards from national and international competitions. Wilson learned a tradition of coffee farming from his parents and has been farming coffee for over 20 years.

While the variety grown on his farm is supposedly Bourbon, it is far more floral than any Bourbon we've ever tasted. The beans are relatively elongated, producing smooth, floral notes of butterscotch, honeyed-cranberry, and lemongrass. If you enjoy the Gesha variety, Alto is for you.

The labor and craftsmanship that Wilson puts into his work is incredible. He transports his coffee down the mountain in wheelbarrows, one bag at a time, avoiding the use of machinery on difficult terrain that could damage the beans, or donkeys which he believes affect the smell and quality of the coffee. His dedication to producing this award-winning coffee is obvious in the cup.
Alto Lagunillas won the Best of Origin for Peru at the Specialty Coffee Association of America's and first prize in the Peruvian National Coffee Contest twice. His coffee is one-of-a-kind. 
With notes of butterscotch and hints of honeyed-cranberry, Alto Medium is a richer, sweeter version of this special coffee. Enjoy it any way you prefer: drip, espresso, French press and more. It's versatile for all types of coffee drinkers. This coffee is an absolute gem!
If you wish to receive a grind other than whole bean, please include the request during the checkout process.
Learn More
FARM DETAILS
REGION
Sandia Valley, Puno
PRODUCER
Wilson Sucaticona Larico
ELEVATION
5,250 - 5,900 ft
BREW METHOD
Drip, Pour Over