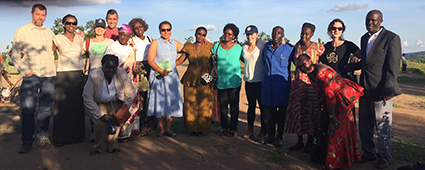 In May 2016, Jenny Howell, Director of Coffee Sourcing, travelled to Burundi with a group of U.S. based coffee professionals. Led by Jeanine Niyonzima-Aroian, owner of JNP Imports, the group visited several washing stations outside the capital, Bujumbura, and around the country in regions including Kayanza; Knyamugari; Mahoda; and Butemba. In recent years, several cooperatives have competed and placed in the Top 10 in the Cup of Excellence, an initiative co-created by George Howell in 1999.
This interview took place in June 2017 at the George Howell Coffee café in Newtonville, Massachusetts.
Erika Koss: Jenny, it's such a pleasure to see you again. You've traveled all around the world for coffee. Did you ever join your father on his travels when you were young? What impressions have stayed with you?

Jenny Howell: My first trip with my parents took place in the late 80s. It was to La Minita Farm in Costa Rica. At that time, I wasn't aware that my Dad was one of the first people in coffee to travel to origin in order to forge relationships and find the world's exceptional coffees. I have a distinct memory of waking up to the most beautiful view of Mountains I had ever seen. And I remember being struck—even as I still am—by how long, hot, and dusty the days are in the field and how physically tolling the work looked to be. I also recall noticing how the ripe cherries did not come easily off the branches.

EK: Years later after college, you started working at George Howell Coffee. Where did you go on your first professional trip, and what do you remember most as you look back?

JH: In 2008, I went to Colombia on my first trip as a coffee buyer. To this day, what stays with me most was meeting Maria Santos. At that time, she was 88 years old, and from 2005 to 2008, we had been purchasing our best Colombian coffee from her. During those four years, we had picked out her coffee blindly from hundreds of others. I was impressed that she was single-handedly the driving force behind the quality coffee her farm produced. Maria retired the next year in 2009. For me, everything about coffee came together on that trip: I began to see and understand how various microclimates impact terroir. I knew I wanted to see more, learn more, taste more, and find that next level of quality in coffee.

EK: Since then, you've been to East African countries several times, but your May 2017 trip was your first visit to Burundi. Did this trip offer any surprises?

JH: It's true that I've traveled a lot, but I haven't experienced too many harvests. This trip wasn't a purchasing trip for me, so I had a unique goal: to see the overall country and observe how they're processing coffee. What struck me was that the whole country was involved in the coffee harvest, whole families included, often late into the night. Even though many farmers own an average of 60-150 coffee trees that are producing less than half of what it could be, coffee is Burundi's largest cash crop. Each tree produces less than a pound of roasted coffee per year!


EK: Burundi is a country with a land mass the size a little larger than the state of Massachusetts. It seems from your itinerary that you visited most of the country. What impressed you as you traveled from one washing station to the next?

JH: The mountains were lush and beautiful. I was impressed that at every wet mill we visited, I witnessed good practices with coffee processing: the same methods of picking, sorting, floating, depulping, double fermentation, and raised-bed drying. In other countries, I haven't always seen such consistency. The double fermentation method was interesting as I have only seen this before in Kenya, which produces some of the highest quality coffee in the world. In Burundi, there had clearly been country-wide training and education. This is especially impressive considering how much they've had to rebuild after several genocides and long civil wars.

EK: While it's fantastic to hear about this progress, only 1-2% of all Burundi is considered specialty coffee. What do you think it will take for more of Burundi's coffee to score in the 80s and 90s?

JH: I think it's all about education, training, and higher pay. If the farmers receive more money, they will have more of a chance to put money back into their farms. In exchange, they will produce more cherry. Since there are hundreds of thousands of people in Burundi working to produce coffee, greater production could change the entire country. There is the potential for much more of Burundi coffee to compete in the specialty coffee market, if there's more education. For example, one day I saw some cherries sitting in the big tank, because there wasn't enough water to process them through the washing station. After 4- 6 hours of sitting there, the cherries ferment, and this decreases their quality. No one told them that without water, they had the option of processing them as a natural coffee. A natural coffee is when the coffee cherry is dried in the fruit on a raised drying bed, so it can be a good option if there isn't enough water.

EK: You and I have talked before about the challenges for families involved in coffee production. For you, how does high quality coffee intersect with social sustainability? Did you witness this on this trip to Burundi?

JH: Quality coffee and social development do go hand in hand. There are many challenges in coffee, and in Burundi the farms are small. Many families own fewer than 150 trees, and they have 8 to 10 children. The average life span in Burundi now is 50 years, so it will take long-term vision for families to reinvest in their farms, to take care of their trees, and produce other agricultural products side by side, in order to take care of their children.

EK: What distinguished this group from past groups with whom you've travelled?

JH: On past trips, I've never travelled with so many women! There was Mary Allen Lindemann from Coffee By Design in Maine; Jamie Isetts from Merit Roasting in Texas; Phyllis Johnson, the founder of BD Imports, now based in Atlanta, and Jeanine Niyonzima-Aroian, who organized and led our trip.

EK: Jeanine is such an inspiring woman! How did you first meet her, and what excited you about her work?

JH: She had sent us some green coffee samples from Burundi, so earlier this year, she came one day to the roastery in Acton to cup coffees with my father and me. She told us about her new company, JNP Imports, and her mission to bring Burundi specialty coffee to new markets. I was struck by her energy and her passion to focus on the development of women as leaders in coffee. On our trip, I saw this when we met women involved in the International Women in Coffee Alliance. These women were confident, empowered, and strong. They were involved in educating others. They were smiling with joy about their coffee, because they had already seen changes in their lives, and they are imagining how much more change is possible.

EK: At the end of your trip, you broke off from the group to visit the Long Miles Coffee Project. Recently Ben was featured at a GH Coffee event in Boston. There George talked about his immediate excitement with the taste of those coffees. Was it the same for you?

JH: Yes, we had received those samples in summer 2016. It was like tasting all the florals from Ethiopia and the blackberry from Kenya; it truly tasted like the connection between the two countries. At that moment on the cupping table, we both knew we had found something utterly unique.

EK: Did you see the new washing station?


JH: Yes, it's stunning! It overlooks the Kibiri rainforest and is surrounded by all the hills from where they collect cherry. When I visited, their water pump was broken. Since the rains were diminished this year, they had been only producing naturals from the first day they began receiving cherry back in early April. As I drove with Ben and Kristi Carlson, and their two sons, for three hours up and into the mountains, I saw many people choosing to walk exceptionally long distances to bring their coffee cherries to the Heza Washing Station. This is because the Carlsons are giving farmers a higher price. People walk many miles into the night to get to the wet mills, even mothers with babies strapped on their backs and small children walking by their side. At Long Miles Coffee, all the farmers are treated equally. They are all given the exact same bonus at the end of the harvest whether they collected more cherry than their neighbor or not. It is a true honor that we are able to offer two Long Miles Coffee Project coffees, from the Gitwe Hill and the Nkonge Hill.

EK: If you were to predict, how does the future of Burundi coffee look to you?

JH: The future looks hopeful for coffee farmers as a whole, as well as for the many women farmers who are taking on more leadership roles. Even in the last 2-3 years, the samples we receive are at a higher caliber, and I'm sure more quality will come. I predict that this is just the beginning. I'm looking forward to seeing where pioneers like the Carlsons and the female farmers of Burundi will take coffee in the next 10 to 20 years. I predict much of the change will come through women.

To learn more about the Nkonge Hill and Gitwe Hill coffee produced by the Long Miles Coffee Project in Burundi and the next limited roast date, click here.