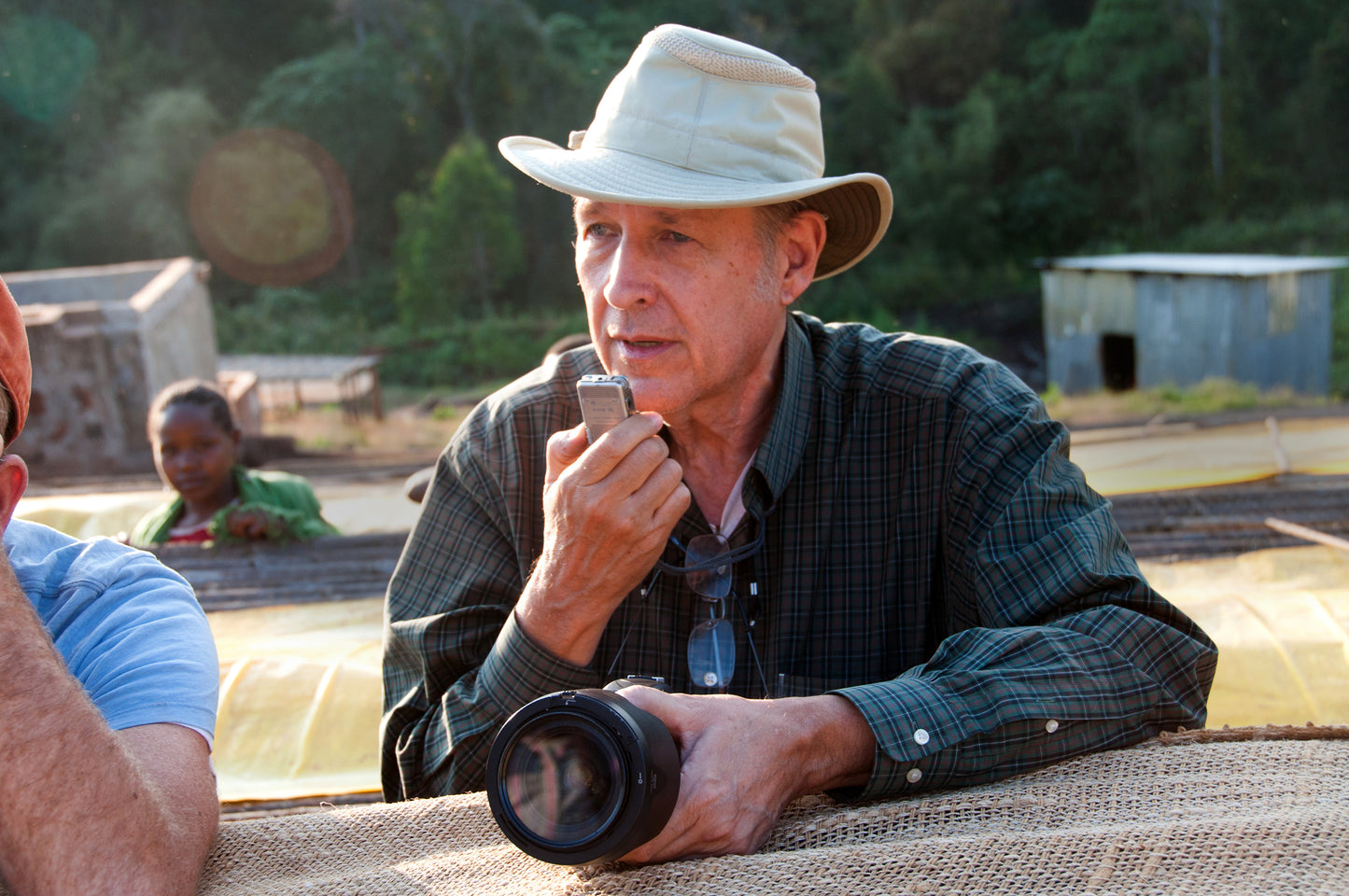 July 2023

Coffee Prices: How We Got Here and What the Future Looks Like
Costs across all industries have risen, and coffee is no exception. In 2022, prices roasters paid to coffee farmers reached an all-time high. Simultaneously, demand for coffee was also breaking records.
You may have noticed some changes to our prices. As slowly as possible, they have risen, often reducing our margins in the process. So, we'd like to share a bit about the costs associated with our coffee. We have always believed in transparency with customers and we are not going to shy away from that now.
To begin, expenses to producing George Howell Coffee include farmers, labor, energy, storage, manufacturing, packaging, shipping, and interest rates, all of which are continuing to rise.
During the height of the pandemic, worldwide shipping and freight issues plagued most industries. Most of our coffees travel to us via cargo ships. There were many long, chaotic oceanic delays that caused ripple effects through all facets of our business, a great deal of which we are still dealing with today.
Delayed shipments rapidly increased the risk of bean deterioration. Deterioration means sour woody notes replace the very special sweet fruit and spice nuances George Howell Coffee and our customers pay for. But in particular, available storage space became an issue, one that continues even now.
We keep all our raw coffees in freezer warehouses until ready to roast. Freezing green coffee prevents it from deteriorating and losing its integrity; it's what allows us to offer single-estate coffees with full flavors and nuances, year-round.
We had to search for freezer warehouses, sometimes many hundreds of miles away, to keep our guarantee of quality to our customers. But as Covid retreated and patterns of consumption began changing once again, sudden pileups at storage warehouses took their toll. Freezer warehouse costs rose dramatically because of bulging inventories. However, it is one of several cost increases we have not passed on to you. As commerce networks untangle their logjams, we hope these costs come down.
By far the worst factor in the rise of coffee prices was not Covid related. In 2021, Brazil suffered the "worst drought in at least 90 years," according to the New York Times. Since Brazil produces 40% of the world's coffee, the drought's effect set the world's coffee prices on fire.
The cost impact of the drought did not begin to be felt by consumers until the summer of 2022 when newly harvested Central American coffees began arriving on our shores. Quality regional coffee to importers went up 30%, and they are staying at this level currently for the 2022 harvest arriving now. We hope prices will stabilize and come down during the second half of 2024, but we seriously doubt they will return to pre-drought levels.
Truthfully, maybe they shouldn't. Challenges to coffee farmers have been devastating. Farm workers and seasonal coffee pickers have nearly disappeared in many regions due to better pay in other industries and migration to cities. Fertilizer costs doubled last year and are continuing to rise, partially due to the war in Ukraine. And then there is climate change. Once-dependable seasons have increasing climatic irregularities including sudden rain and wind violence with resulting erosion and the rise of invasive organisms such as "rust," a fungus that slowly destroys coffee trees.
Due to these factors, many coffee roasters are now fleeing towards blends as well as lower quality, lower cost Robusta coffee, a different species of coffee plant that produces bitter and rubbery flavors. We will not use Robusta. We source strictly Arabica coffee and focus on single-origin, single-estate coffees. Our only blends are our Alchemy Espresso, for a traditional Northern Italian espresso, and our Cold Brew.
Blends allow roasters to switch farms and regions anytime they feel consumers will not notice or will tolerate the downgrades. Blends are also useful for combining older, aging beans with younger coffees to create a stable, more generic flavor profile. While it helps the roaster's bottom line, it typically sacrifices the final product. This completely goes against everything we believe in.
Our motto has been and will continue to be, "Putting Coffee Farmers Front and Center." That is how we conduct our quest for the best coffees on earth. Fine coffee requires farmers who are dedicated crafts people. They should be rewarded for the quality they bring, just as many of us roasters have been rewarded, thanks to them.
You may have also noticed that we have started selling some of our coffees in an 8oz bag, downsizing from our 12oz bag. We hope this makes our more costly coffees more accessible to a wider audience. We aim to provide the opportunity to enjoy high quality coffees without overwhelming you, regardless of how infrequently you brew or if you are price restricted.
On a personal note, I have been roasting for almost 50 years. When I opened my first café The Coffee Connection, in 1975, the coffee world looked completely different, but the only constant is change. I am hopeful for the future as long as we have coffee enthusiasts like yourselves to join us on this continuous ride. Know that George Howell Coffee will never sacrifice quality. Our mission will always be to bring our customers "the ultimate cup" as I used to say. I, and our entire team, appreciate your support and trust. We will not falter on the quality we put forth.
Sincerely,
George Howell