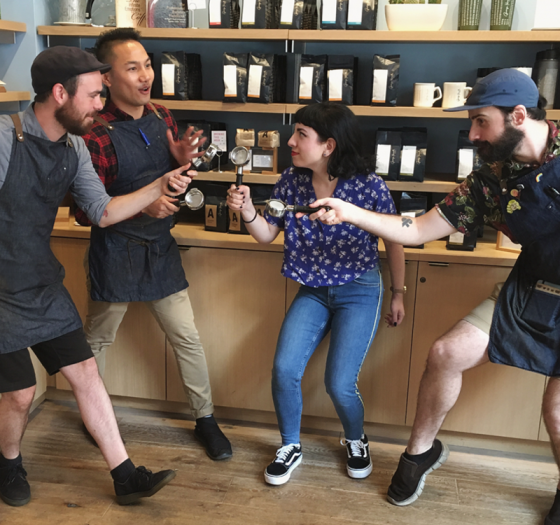 Cafe Staff & Aspiring Baristas
Boston Locations
We are looking for great staff to join our team at two of our cafes.  The Godfrey Hotel and the Boston Public Market – both in Boston . We take pride in sourcing and roasting the highest quality coffee and offering it to customers along with great service in a comfortable environment.
Production Staff – Acton MA
We are seeking production staff that is detail-oriented and has excellent communication and organizational skills. This individual should be able to stay focused and have the ability to apply common sense in order to carry out tasks/ instructions. Ideally, 1 or more years' production experience is preferred.
Job responsibilities include, but are not limited to:
Ability to follow processes, policy and procedures of a coffee roasting company
Capable of working in a fast paced production environment
Receiving green coffee/other related items related to production
Stock shelves/racks
Bag/seal roasted coffee efficiently
Work as a team/one unit
Sense of urgency/ability to switch gears easily when needed
Ability to lift 75lbs on a regular basis
Pick/pack customer orders efficiently w/goal of 100% accuracy
Help maintain, clean production/order fulfillment areas at all times
Held accountable for the job you do/company you represent
Potential to learn coffee roasting as a backup roaster
OR-Experience roasting in the artisan coffee industry a huge plus
Education Requirements:
High School Diploma; relevant experience is preferred.
Physical and Mental Requirements:
Physical Requirement: bending; stooping; light, moderate and heavy lifting/ carrying; be able lift a full barrel of roasted coffee over head weighing up to 60lbs continuously; as well as lifting and pushing 150lbs waist high,assisted; reaching above shoulder; ability to do a repetitive motion; and the ability to stand and walk for most of the day.
Mental Requirement: Comprehension, Organization, Reasoning, Communication
Job Type:
Pay:
Benefits:
401(k)
Employee discount
Health insurance
Dental insurance
Short Term Disability insurance
Long Term Disability insurance
Paid time off – vacation, sick, personal days and holiday pay
Parental leave
Professional development assistance – we promote from within
Schedule:
Monday to Friday
Overtime is available
Work hours are 8:00 AM to 4:30 PM with a 30 minute unpaid meal break
COVID-19 considerations:
We adhere to a strict COVID-19 control plan.
Work Location:
Work Remotely:
How to apply: Please send your resume to HR@Georgehowellcoffee.com.