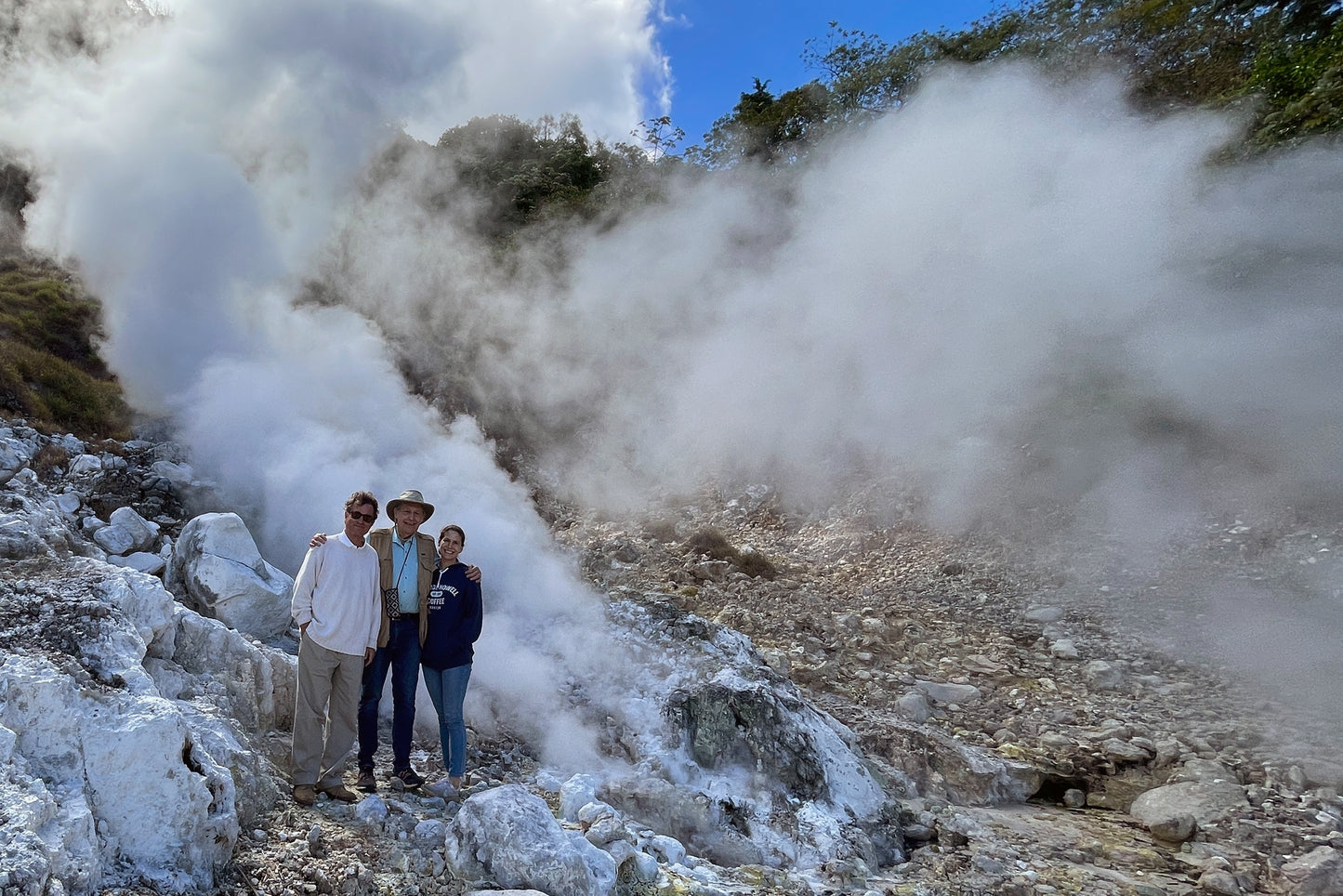 Montecarlos, El Salvador
ABOUT OUR ROASTER'S CHOICE FOR SEPTEMBER


Montecarlos is a spectacular farm, covering the entire circumference of a dormant volcano, nestled in a chain of volcanic cones. On one side is the Pacific ocean and on the other the central plateau bringing warm winds up the northern slopes. The farm is owned by Carlos & Jullie Batres, and has been in Carlo's family for five generations.
It was the first estate in the world to grow the Pacamara variety of coffee which became popular by Starbucks as their "Black Apron Exclusive" coffee - around the same time, it started to win at El Salvador's Cup of Excellence competition.
Coffee is only harvested each season when perfectly ripe, which means that it may take several passes before the cherries are plucked to ensure the best flavor in the resulting cup. Once harvested, the cherries are milled and washed three times from the natural mineral water springing from the farm.
The Montecarlos Mill has been in use for five generations, featuring the original architecture that has been in the family since the 1870s. Coffee is 100% sun-dried on clay patios which allow the beans to dry in fifteen days—keeping temperatures cool in the daytime and retaining warmth at night. The channel system of the Mill is also unique in that it uses gravity to carry the beans upon being washed to any of its 60 drying patios.
In addition to the work Carlos and Julie do on the farm, they support their local community's schools, church, and roads. Each year, George and Jenny spend time at the estate with the Batres family, experiencing this magnificent farm firsthand.
Best Brewing Methods for Light Roast:
Electric Brewer , Pour Over, Iced Coffee
Learn More
Frequently Asked Questions
What is a Roaster's Choice Subscription?

Our Roaster's Choice Subscription rotate each month. Enjoy a new coffee with every delivery!

Our Light subscription includes only light coffees. Our Medium includes only medium coffees. Our Espresso includes espresso and medium coffees.

Coffees range from countries all over the globe from Kenya to Costa Rica. The price remains the same each month and does not vary based on the coffee of the month.
Which roast profile is right for me?

Light: Our light roast coffees are roasted delicately to highlight the terroir from their native countries. George has likened a perfect light roast to landing a plane on a matchstick–An extremely challenging task to nail completely. Roasting is always a balancing act in maintaining the right amount of acidity without under-developing a coffee, or otherwise going a touch too far and eliminating its nuanced flavors. The result should be a lively and multi-dimensional coffee, packed with bright, yet smooth acidity, florals and fruit that pop, and ever morphing tasting notes that last from hot to cool.

Medium: Our medium roast coffees have mild acidity while providing a richer overall body. These coffees are typically roasted longer and developed further than our light roasts, producing flavors that lean more heavily toward chocolate and nuts at their core while still providing mellow accents like flowers, fruit, and citrus. The mild acidity in our medium roast coffees lends itself well to creating a bright yet rounded espresso shot, with discernible terroir notes.

Espresso: Our espresso roasts are catered towards those who enjoy an Italian-style shot or one with a bright, round body. These coffees are roasted the longest and developed furthest for greater caramelization and an inherent dark chocolate flavor. The bittersweet chocolate and depth of body can stand up to the addition of milk and sugar and work well in espresso-based cocktails. The minimal acidity present in these coffees makes them preferable for an evening after-dinner espresso!
How often do coffees change?

Every month! Enjoy trying something new with each delivery. Please note, you may receive the same coffee twice depending on how frequently you choose to receive orders. 
What size is the bag?

Bags will range in size from 8oz to 12oz, depending on the coffee offered that month.
Want to know more?
Visit our subscription page to learn more about our rotating Roaster's Choice Subscriptions and our individual subscriptions for specific coffees.